Palisades Cabins Featured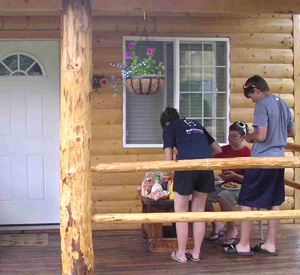 You'll get the finest experience of the outdoors without sacrificing any comforts. These cabins are comfortable, heated, and come fully furnished with all the "hotel like" amenities. All linens provided. Each cabin has a modern kitchenette, which includes a microwave oven, sink, mini-fridge (except where noted). All cabins have access to BBQ grills and fire pits. All cabins are "smoke free" with outdoor smoking areas available.

If you've got a family reunion, we'd be happy to reserve multiple cabins, RV sites and even tent areas for the whole clan. We have covered picnic areas for the get-togethers and evenings around the camp fire.

There's plenty of parking, so bring the whole family and all your friends for a great vacation away from home!

Check-In / Check-Out
For all cabins, the Check-In time in 4:00pm and Check-Out time is 11:00am.

Cancellation Policy
Guests must notify our staff by letter, phone or email 14-days in advance of your reservation to receive a return of rental deposit, except for the $30 non-refundable deposit.

No smoking in cabins, please!